Horizon Blue Cross Blue Shield of New Jersey's Explanation of Payment helps you obtain the information you need quickly and easily in a simple-to-read format. It includes summary sections, a message center and the following:
A cover page that includes payment summary information.
Bolding of patient names to differentiate the patient from the subscriber.
A layout that simplifies navigation of the voucher.
Remark and reason code messages below the patient claim detail explaining any payments/nonpayments.
If you have questions, please call Physician Services at 1-800-624-1110.
Payment Summary
This is a summary of the gross claim amount, late interest, account receivables (A/R) applied and the check amount. The check amount is the actual payment after consideration of the late interest and A/Rs applied.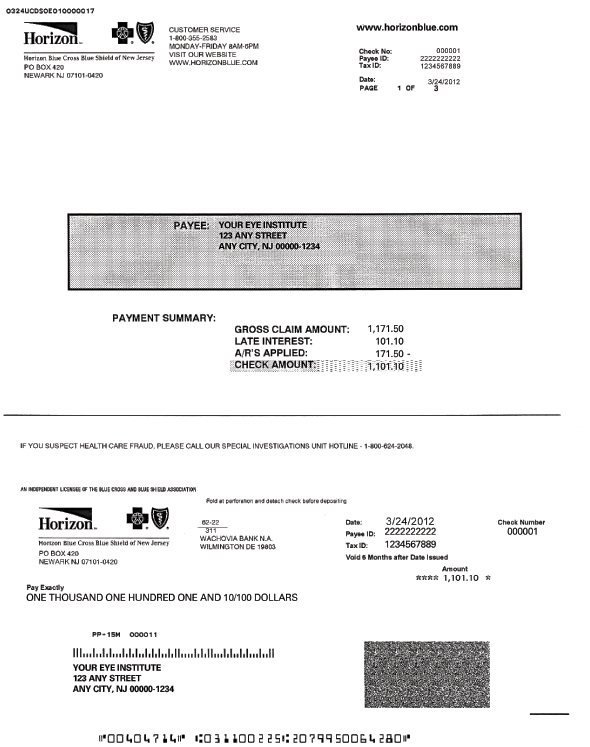 Claim Detail
This section lists all claims sorted by product and patient. Claim detail includes remark and reason code messages directly below the patient claim detail providing further explanation. We provide detailed information regarding claims denials. For example, enhanced messages provide specific details about claims processed against an authorization where one or more of the following have been exceeded:
Days.
Hours.
Services.
Units.
Visits.
The message will contain both the quantity authorized and also the units of measure of that quantity.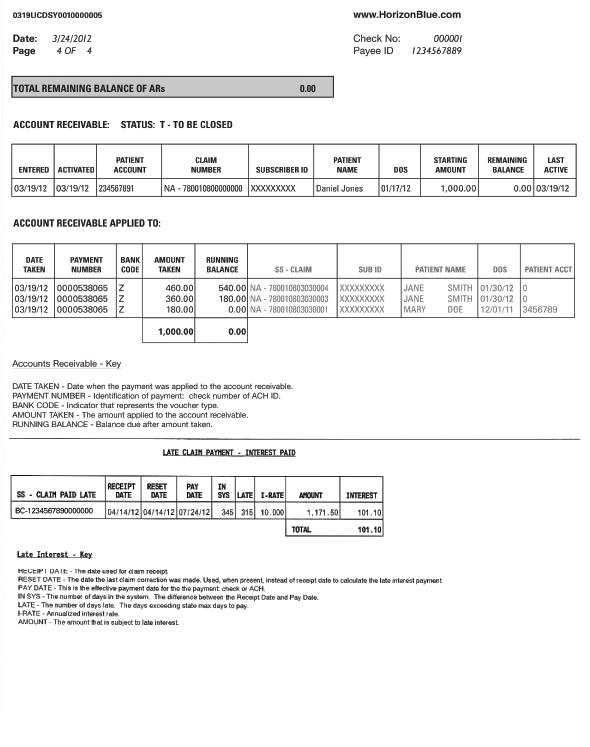 Account Receivable Summary
This section highlights all outstanding payments due to Horizon BCBSNJ, detailing the patients' claim where the A/R was initiated and indicating any monies deducted from your reimbursement to satisfy the A/R. We have limited the number of times a single A/R will appear in the account receivable summary section of subsequent paper and online UPS vouchers. An A/R will only appear in the account receivable summary section when:
The A/R is initiated.
Monies are received from a physician and applied toward that A/R.
The A/R is activated (45 days after an A/R is initiated if monies have not already been received to satisfy it).
Claim reimbursements are applied toward the active A/R.
The A/R is completely satisfied.
Late Interest Summary
This area details the claims that require Horizon BCBSNJ to pay a late interest payment. The late interest payment will be added to the claim payment on this form.