Payment Process Changes for Horizon MyWay® Members
Horizon Blue Cross Blue Shield of New Jersey will offer our members improved account administration and a better member experience for their Horizon MyWay® accounts, including Flexible Spending Accounts (FSAs), Health Reimbursement Accounts (HRAs) and Health Savings Accounts (HSAs), beginning January 1, 2019. Because of this migration, current debit cards will be closed and new ones will be issued.
Blackout Period and Debit Cards
To allow for the enhancements, there will be a blackout period from December 15, 2018 to December 31, 2018. During this time, our members will not be able to use their current Horizon MyWay debit cards for payment at your office. If you swipe their Horizon MyWay debit card at your office or use their card number for an automatic payment, it will be declined. Our members will need to use another form of payment for services provided during this blackout period. Members can submit a claim for reimbursement from their Horizon MyWay account after the blackout period ends. We have informed our members about this blackout period and how it will affect their debit card, but this information may be helpful for you to have, too.
New Debit Cards
After January 1, 2019, members will have new Horizon MyWay debit cards. Here is what the new debit card will look like: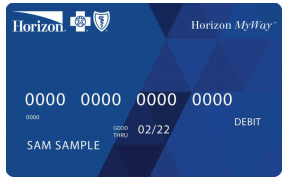 Thank you for the care you provide to our members, your patients. We apologize for any inconvenience you may experience during the transition.
Published on: December 20, 2018, 02:08 a.m. ET
Last updated on: June 17, 2021, 03:27 a.m. ET