What Happens After My Appointment?
After you visit a doctor, other health care professional, laboratory or hospital, an Explanation of Benefits (EOB) is generated for you. If your health care provider participates in Horizon BCBSNJ's networks, the claim is submitted to Horizon BCBSNJ for you. But if you go to an out-of-network health care provider, you may need to submit the claim yourself.
An EOB is not a bill. It tells you what costs are covered for medical care or services you've received.
View the sample below for an overview of the information included in an EOB or link to the video to learn more.
To view or print your EOB, simply sign in to our secure member web portal and click Claims. From there you can review your recent claims. You will receive an email each time an EOB is posted online.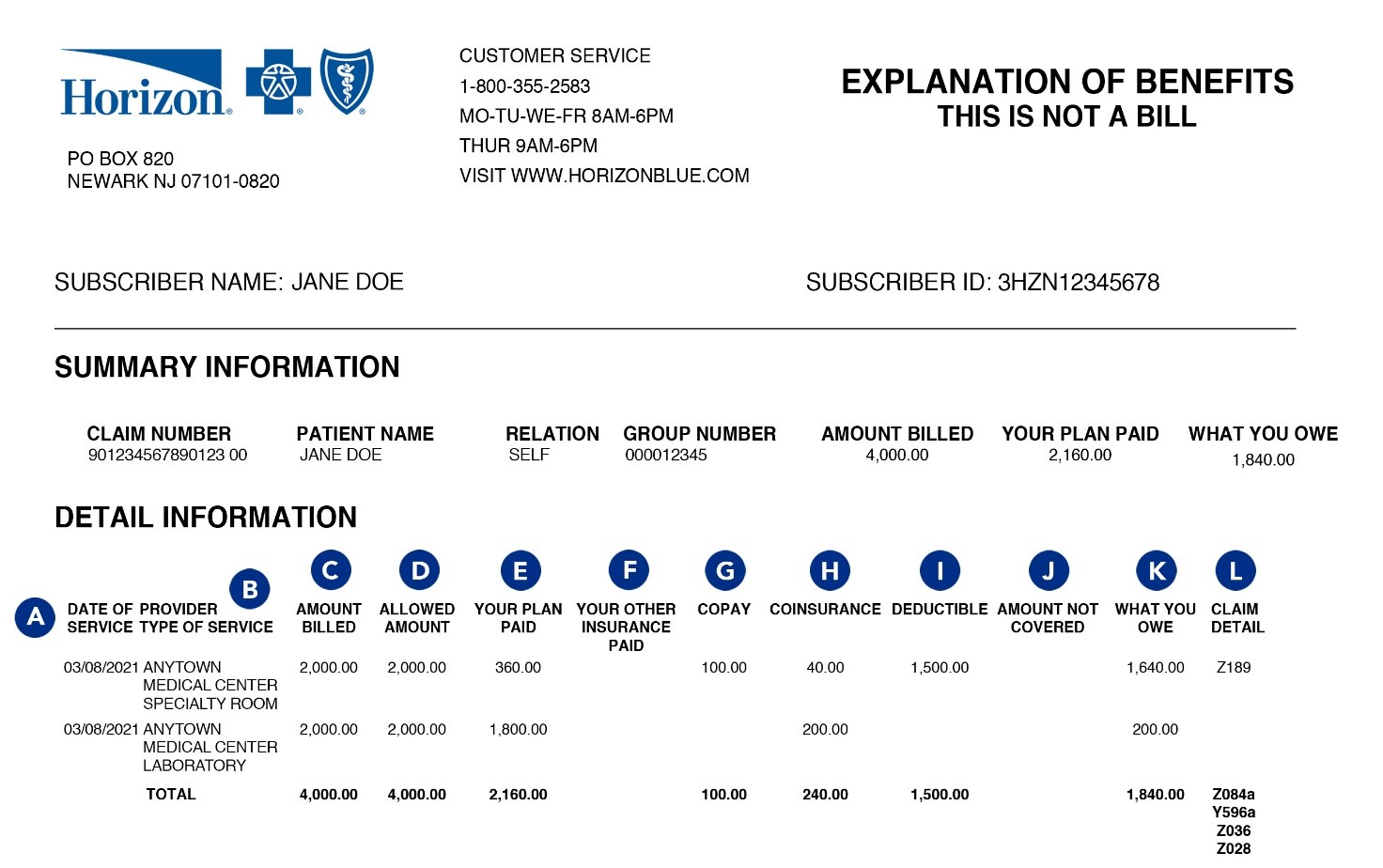 Health care can be confusing
That's why it's helpful to know the meaning of commonly used terms such as copays, deductibles and coinsurance. Watch our videos for an explanation about each form of payment.
Terms used in an EOB
Date of Service: The date you received your care.
Type of Service: The service or care given to you by the provider.
Amount Billed: The amount charged by the provider for each service on the claim.
Allowed Amount: The amount the provider agrees to be paid for a specific service. It may include a deductible, coinsurance and/or copay.
Your Plan Paid: The total amount paid by Horizon BCBSNJ to you or the provider for the services that were covered by the plan.
Your Other Insurance Paid: The amount paid by another insurance carrier, if you are covered under another health insurance plan.
Copay: A copay is a fee that you pay each time you go to the provider. You pay the copay at the time you receive the care or service.
Coinsurance: The coinsurance is the amount you pay out-of-pocket after you have paid your deductible, if any. You pay the coinsurance amount directly to the provider.
Deductible: The amount you must pay before your plan pays for covered services. You are responsible for paying this amount directly to the provider.
Amount Not Covered: The fee charged for care that is not covered by your plan. You may be responsible for paying this amount in addition to any deductible, coinsurance and/or copay.
What You Owe: The total amount you owe the provider. The total amount includes:

Any copay, coinsurance and/or deductible
Costs for services you receive that are not covered by your plan
The difference between the billed and paid amounts for out-of-network services

Claim Detail: These codes refer to specific messages for each claim that help explain how we processed your claim and calculated any payment.