Understanding Your Member ID Card
You've likely received or will soon be receiving your member ID card, the most important link between you, your providers and Horizon BCBSNJ. You can also view or print your member ID card once signed in.
But what does all the information on your ID card mean? Here's a breakdown using a sample ID card.
Sample Local ID Card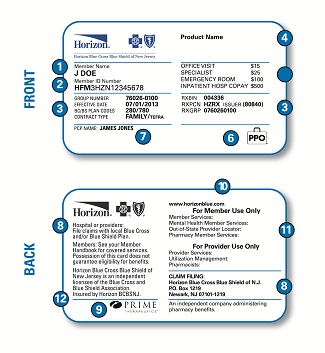 Member name
Member ID number
Coverage verification data
Name of the product
Copayment information, including inpatient hospital copayment
PPO in a suitcase logo indicates BlueCard® PPO coverage, if applicable
Primary Care Physician (PCP) name (if a PCP is required under the plan)
Claim filing information
Logo indicating prescription drug coverage if they have Prime Therapeutics LLC prescription drug coverage through Horizon BCBSNJ
Website address
Service telephone numbers
Indication of whether the plan is insured or self-funded
Sample National ID Card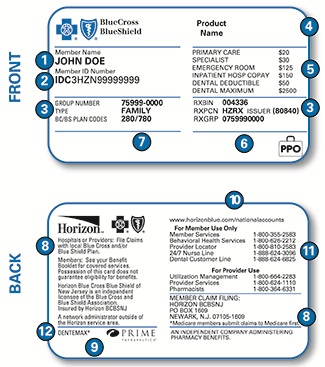 Member name
Member ID number
Coverage verification data
Name of the product
Copayment information, including inpatient hospital copayment
PPO in a suitcase logo indicates BlueCard® PPO coverage, if applicable
Claim filing information
Logo indicating prescription drug coverage if they have Prime Therapeutics LLC prescription drug coverage through Horizon BCBSNJ
Website address
Service telephone numbers
Indication of whether the plan is insured or self-funded